WATCH THIS 1 MINUTE INTRO
VEHICLE IDENTIFICATION AND TRACKING
CarTrax recognizes and tracks customer vehicles and inventory throughout your dealership to improve customer interactions and streamline processes.
SERVICE
 Empower advisors to recognize customers and ease check-in and check-out

INVENTORY
 Enable sales and finance to know precisely where every vehicle is located

RE-CON
 Track trade-in vehicles through reconditioning processes, to speed time to market
IMPROVE PERFORMANCE IN SERVICE AND SALES
DELIGHT YOUR SERVICE CUSTOMER
CarTrax lets you deliver VIP service to every customer, every time.


Customer Recognition
Automatically recognize customer vehicles and alert advisors of their arrival


Welcome Greeting
Greet customers by name on overhead displays as they enter the Service Drive


Service Status
Monitor progress of vehicles being worked on, and get alerts when they're done


Customer Lounge
Keep customers updated on progress with automated status display and messages


Detailing and Wash
Control wash options, track progress and notify customers when ready

Loaner Return
Detect loaner exits and returns, and recognize the customer by name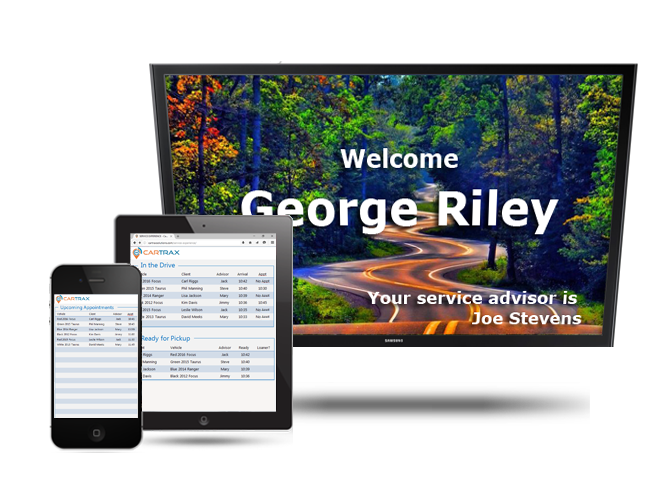 EFFORTLESS VEHICLE IDENTIFICATION AND TRACKING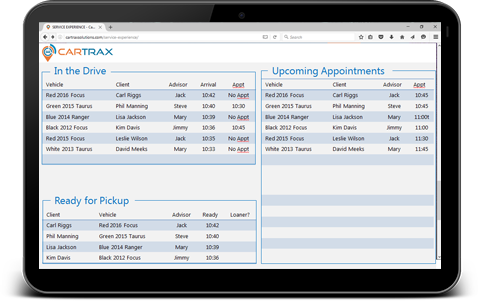 GET A DEMO
If you would like a personalized demo of the CarTrax vehicle tracking system, go ahead and schedule an appointment on our calendar. No back and forth, you'll have a confirmed meeting set in 2 mins or less. We can tailor the presentation for your role, and can address any specific pain points you share with us.